The Wavian brand is known throughout the world for high quality fuel cans and we pride ourselves on selling products that not only do the job well, but are reliable and over the long term can actually save you money too. 
We've been selling our regular Wavian steel fuel can spouts for many years and the 2 main types we sell are a rigid spout and a flexible spout (useful when access to the fuel tank is more difficult), these spouts are available in a range of colours and are designed to fit exclusively with our Wavian Steel Fuel Cans.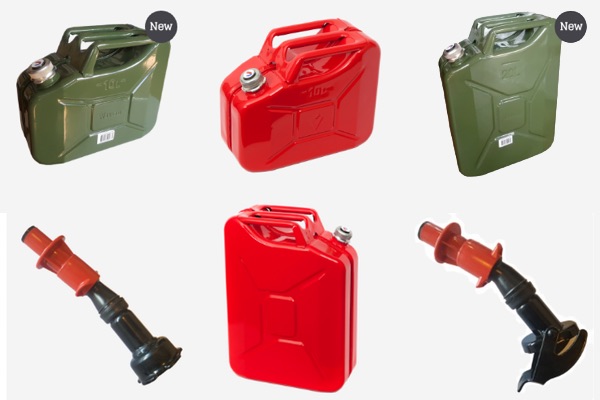 When it comes to the USA, the Wavian brand name is as equally well known, however due to differences in the safety regulations across the pond our Wavian fuel cans must come supplied with a pouring spout that has a dry break mechanism. In other words if you tip the can over with the spout attached no fuel must be allowed to leak out. This is also true if you are refueling and pressure has to be applied to the spout in order to release the petrol or diesel.
After a lot of testing and product development we were able to design and produce a spout for the American market that passed all the rigorous safety testing procedures. This spout along is available to buy from our US distributor HERE and is currently the only spout that meets the current necessary regulations.
Smart Spouts
As a result of producing our US 'dry break' spout, we've now introduced 2 brand new 'smart' spouts available to purchase in the UK. Both feature a dry break end mechanism which ensures there are no drips or mess when refueling, however because of the design it should be noted that this does slightly affect the flow rate coming from the can. As a result we recommend purchasing these spouts when your main refueling is done to small fuel tanks, IE lawn mowers and chainsaws etc.
The new smart spouts are available in both Bayonet and Screw Top to fit our brand new range of screw top jerry cans. Click here to view more, should you need any more information regarding the new smart fuel can spouts or any of our high quality Wavian Fuel cans or accessories call us on 01508 493 647 or email sales@wavian.net