Our Jerry Can Mini Bars are back!
We're really excited to let you know about these latest additions to our product range. Available in Red, Black, Chrome, Orange and Yellow and (coming soon) Green, our custom made Jerry Can Mini Bars make a fantastic and original present for those people who like to potter around the shed at all hours, or those people who appreciate a quick nip of whiskey in the evening.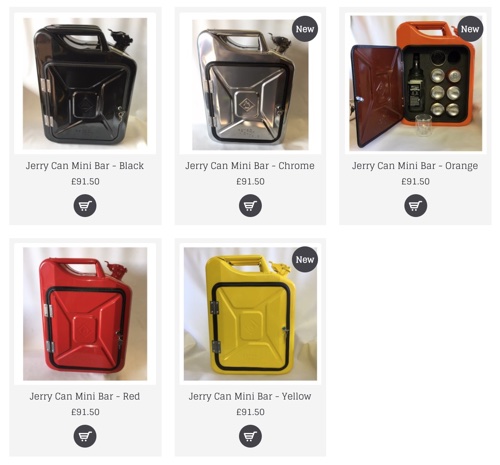 Each one is made from an original Wavian Fuel Can and comes supplied with a hinged, lockable door and 2 keys. The interior is housed with a foam base that will house 8 glasses and a full size bottle (see here for more info).
The current price is £91.50* including VAT and delivery to mainland UK (some locations excluded). The lead time on these cans is slightly longer than normal, (currently around 5-8 working days) however we have only limited stocks, so order early to avoid disappointment.
As usual you can find out more information regarding these our any of our other high quality steel fuel cans, plastic water containers and fuel can accessories by emailing sales@wavian.net or calling 01508 493 647.
*price subject to change – correct as of 29th August 2018. Please drink responsibily, no alcohol or glasses included.