We've been selling digital flow meters for a quite a while now here at www.jerrycans.co.uk and we're pleased to announce we now stock the ATEX Certified Piusi K24 1″ Flow Meter. 
Piusi K24 1″ Flow Meter – This flow meter is suitable for use with a number of different fluids including diesel, kerosene & petrol.
Construction wise, the digital flow Meter has an aluminium body with polypropylene turbine. It is Bi-directional and the Flow Meter is designed to fit in-line with delivery hoses or pipework and a number of our customers use the flow meter in conjunction with our CEMO Fuel pumps and trolleys to monitor the amount of fuel they are dispensing. The Flow meter is very easy to use with a 5 digit register and a 6 digit totaliser. There is a reset button and flow rate button on the front of the unit.
Powered by 2 x AAA batteries with regular use these should last around 2-3 years (if you get decent ones).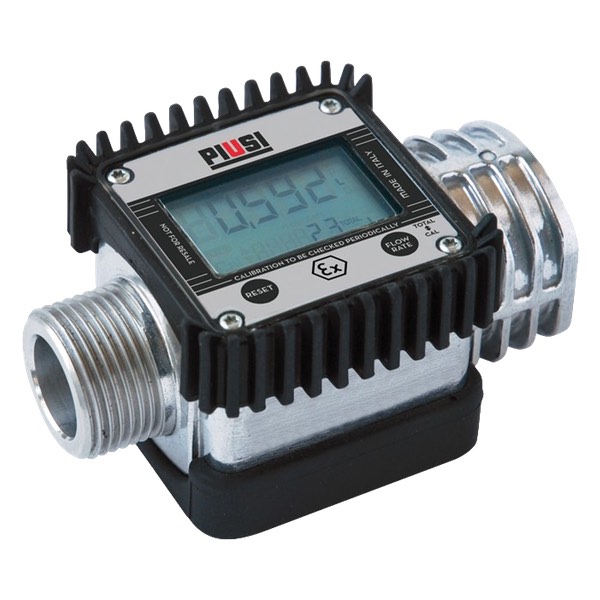 In addition to this Flow Meter, we also sell Adblue flow meters and Diesel flow meters. Piusi are a highly regarded Italian manufacturer and we sell a large amount of their Electric AdBlue® Pumps on our sister website, www.wavianblue.com
Full product specifications below
PRODUCT CODE: K24.ATEX
MANUFACTURER: PIUSI
ACCURACY: +/- 1%
BADGES: ATEX Certified, Made in Italy
FLOW RATE: 7 – 120L/min
INLET: 1" M/F BSPP
MAX PRESSURE: 145psi (10 bar)
OUTLET:1" M/F BSPP
REGISTER: 5 digit
TOTALISER: 6 digit
WARRANTY: 1 Year
SUITABLE WITH Diesel, Kerosene, Petrol
The Piusi K24 1″ Flow Meter is available to buy in our store for £300ex VAT.
For more information visit www.jerrycans.co.uk/Flow-Meter-ATEX-Certified Or call us on 01508 493 647.