We've been specialist fuel can suppliers for almost 20 years now and we pride ourselves on our range of different fuel cans and accessories. By purchasing a fuel can from us you are also purchasing the peace of mind that you are owning a product that is of extremely high quality. All our Wavian Steel Fuel cans are manufactured to a very high standard and exhaustive quality control procedures mean that we just don't have problems with faulty cans.  
Bayonet Fuel Cans
The 'traditional' Wavian steel fuel can has a 'bayonet' style opening, it can be used without a spout, but many people choose to also purchase one to allow more accurate pouring and, when pouring into say, a vehicle or lawn mower it is pretty much essential. We sell a wide range of different spouts, including our 'smart' spout range that offer a 'dry' break solution, for more information on all our spouts click here. 
Screw Top Fuel Cans
We started off selling screw top fuel cans last year to try and gauge the demand form our retail and wholesale customers. So far they have been quite popular and now in addition to the red and khaki green 20 litre fuel cans we now have for sale a cool black coloured version of our screw top can too.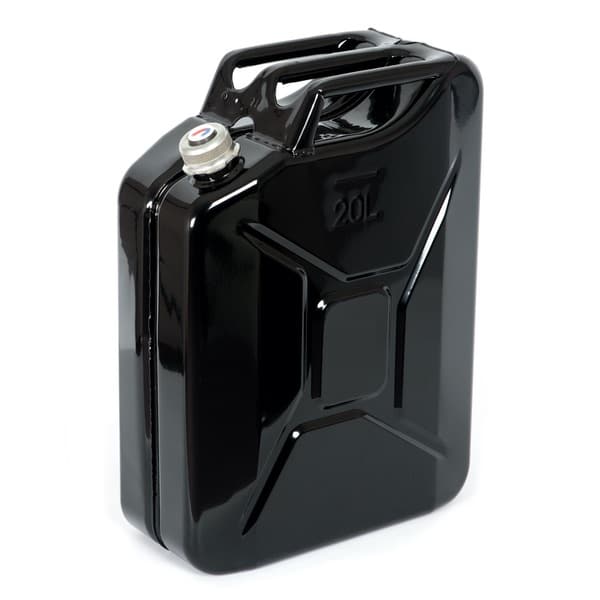 The 20 Litre fuel can is manufactured to the same high standards as all steel Wavian fuel cans, the key difference as you might expect is being the top is a screw fitting. In the past fuel tops have been very easily lost, so to combat this we've made the top magnetic, so it will stay firmly fixed to the side of the can.
The full specifications of the can are show below, should you have any further questions about these screw top fuel cans or any of our products please call us on 01508 493 647 or email sales@wavian.net
20 Litre Screw Top Fuel Can – Features Include:
• Powder coated rust-resistant exterior paint
• Interior Rezol enamel lining prevents rust
• Magnetic Screw Top Cap
• Extra wide breather valve for a fast, smooth pour
Weight: 4.3kg
Thickness: 0.9mm
Dimensions: 470mm H x 165mm W x 345mm D
Approved & Certified
UN Dangerous Goods Approval
Australian Standard: AS 2906
Sweden Standard SP
German Standard TÜV/GS