*** Post update – spend over £100 at www.jerrycans.co.uk and use the code 'BLOG10' to receive £10 off your order (until 1st July 2016) **
What is the law in travelling to France with spare fuel?
Since the French strikes began we've had lots of enquiries regarding travelling to France with spare petrol or diesel in your car. With over half of the Petrol Station in France currently closed (Friday 27th May) it's a worrying situation for any holiday-makers planing to get across the channel in the coming weeks.
With the upcoming Euro's taking place in just over 2 weeks and a busy Bank Holiday Monday this weekend we thought it would be a good idea to document all the information here regarding what you can and can't do when travelling to France on the Ferry or through the Channel Tunnel.
Brittany Ferries
For anyone travelling to France with Brittany Ferries, the company have issued a statement to say that 'The transport of petrol cans on board is strictly forbidden and the transport of diesel in vehicles is only permitted in containers/ jerrycans specifically constructed for the carriage of diesel and to a maximum of 5 litres per vehicle."
So if you're travelling on one of the ferries to France the maximum you will be allowed to take with you is a 5 Litre Jerry Can.
P&O Ferries
There is a similar story with P&O Ferries, with Dan Bridgett, Head of Communications at P&O stating "Customers should be aware that P&O now allows drivers to bring up to 5 litres of spare fuel on board with them, provided it is in an approved container.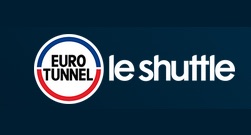 EuroTunnel
Advice from EuroTunnel regarding the restrictions on carriage of fuel containers on le shuttle is slightly more generous. According to their website, the maximum safe allowed quantity of fuel (petrol or diesel) that can be taken on the Eurotunnel is 3, 10 litre fit for purpose plastic containers (we recommend these), or you can take a single metal, fit for purpose metal container (or Jerry Can to us).

You can take a 20 Litre metal fuel container and a single plastic container and any other combinations you can think of as long as you don't take more than 30Litres in total.
We've asked EuroTunnel for confirmation on taking a 10 litre metal jerry can and a 20 litre metal jerry can together, which in theory should be ok, but we've not had written confirmation.
For the legal requirements regarding using a Jerry Can in the UK visit our information page here
To buy the best quality, approved Jerry Cans and Explosafe Plastic Petrol Containers visit our shop www.jerrycans.co.uk
For up to date information use the following links
@BrittanyFerries
@POferriesupdate
@LeShuttle