Over the years we've built up a fantastic reputation for selling the best quality Wavian Jerry Cans, however you might not know that we are also a major supplier of plastic water containers and a range of associated products.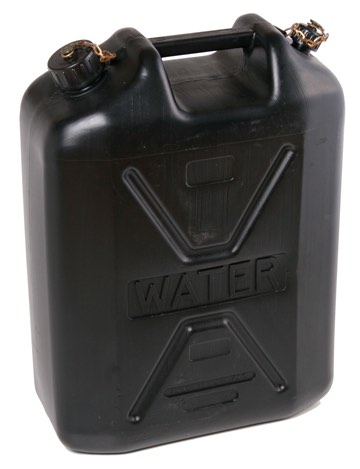 One of the most popular sellers is our range of Nato Water Canisters. These containers are supplied to the British Ministry of Defence and NATO and are strong, tough and come with screw type pourer and air vent caps.
Please note the cans are not designed to store petrol, but are particularly good for a wide range of liquids.
Dimensions:
Height 46.5cm / Depth 33.5cm/ Width 17.5cm
Weight: 2 kgs : NSN: 7240-99-120-725
Models: JC0020WCBV / JC0020WCGV
The canisters are currently available in Khaki and Black in (20 Litre / 4.25 Imperial Gallons) and are priced at £25.85
We especially welcome enquires from wholesales suppliers, email sales@wavian.net or call 01508 493647 for our latest prices on bulk orders.