We always try our best to make sure we have good stock supplies of our best selling products, however recently there has been a couple occasions when we've been caught on the hop by the sheer demand in certain items.
We've found that there has been a huge increase in demand for our plastic water containers and as a result we've created some new 'workplace deals', these are high quantity, low cost packs of 15 units available to order directly on the website without having to create an account.
These have been especially popular with schools and workplace environments where new procedures and social distance management has meant they have had to do things differently.
10 Litre AdBlue® Containers
The obvious thing to say about these AdBlue® containers is that they do NOT contain any AdBlue®. The container is designed to be used many times and is ideal for companies who use AdBlue® from a larger tank or IBC on a regular basis and ensure their drivers have a spare container in their cab incase they should run low at any point. Incidentally we also sell 210 Litre drums and 1000 AdBlue® Litre containers over on our sister website www.wavianblue.com . These containers are a cheaper alternative to our other 10 & 20 Litre AdBlue® containers manufactured by Hunersdorff (see below)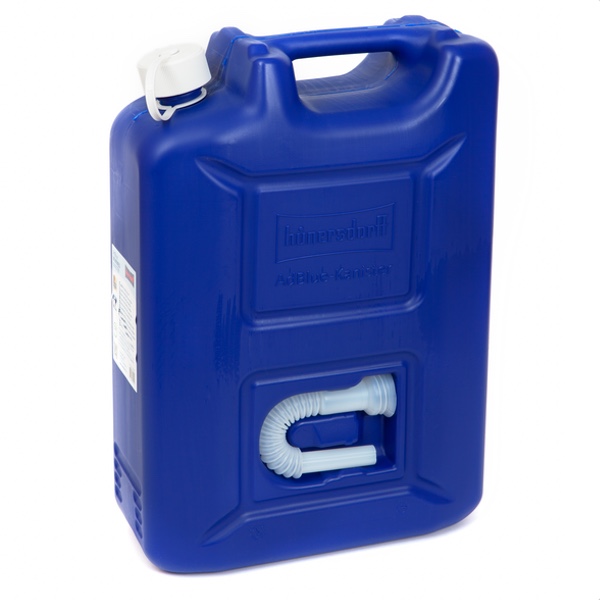 Perhaps the surprising the thing about these 10 Litre AdBlue® containers is that many people don't actually use them for AdBlue®. As they come with a smart spout that stores nicely in a recess in the side of the can they are useful for a wide range of liquids and they are often used in the catering trade to store oils and other food stuff.

If you would like more information on these 10 Litre AdBlue® Containers or any of our other high quality fuel cans or containers, please call us on 01508 493 647 or email sales@wavian.net.