We are always looking to increase the range of products we sell on www.jerrycans.co.uk and in addition to our high quality Wavian steel fuel cans and accessories we also have a range of 10 & 20 Litre plastic containers. This includes containers specifically designed to store AdBlue® in addition to 10 litre plastic fuel cans and high quality water containers. This week we have introduced a new 22 Litre Eco container available on our website. It is manufactured by German brand hünersdorff, well known for their high quality products and it is a similar container to the 20 Litre Eco container with tap we already sell. The key difference as you may have guessed is that the 22 litre container holds 22 litres instead of 20 and there is also no tap included.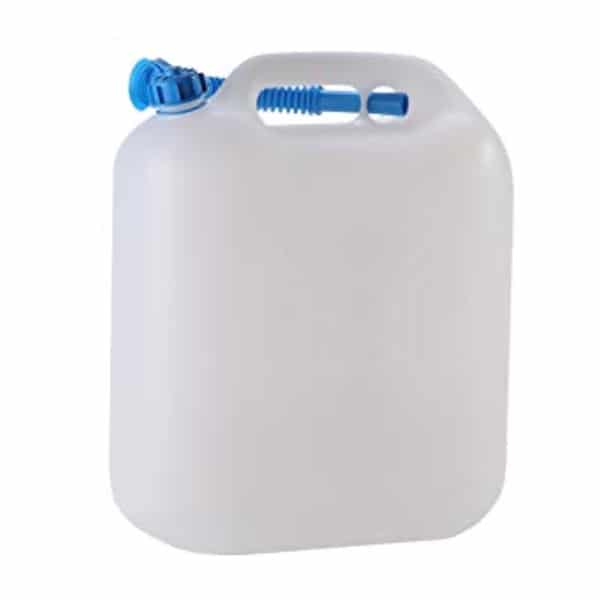 We think these will become very popular with caravaners and keen gardeners and the containers lightweight but strong HDPE material means it is a portable and useful item that can be reused many times without issue.
The reusable plastic 22 Litre can is available to purchase singularly or in packs of 3,5 and 10. The prices (as of Tue 14th January 2020) are for a single container £16.80 (inc VAT), pack of 3, £44 (inc VAT), pack of 5, £72 (inc VAT) pack of 10, £141.60 (inc VAT). To view in our shop click here >
Product Specifications
Size: depth:190mm width:370 mm height:440 mm
Diameter of filling opening: inside/ outside 29mm/38mm
Colour: natural (white), (screw top blue)
Weight: 1kg
Manufacturer: hünersdorff
For further information on this or any of our products, call our office on 01508 493 647 or email sales@wavian.net. We are also very happy to give prices on bulk orders and large amounts.