We've seen our cans customised and modified over the years in all sorts of innovative and interesting ways. We've even sold our Jerry Cans to an artist who painted them white and sold them for over $1000 each!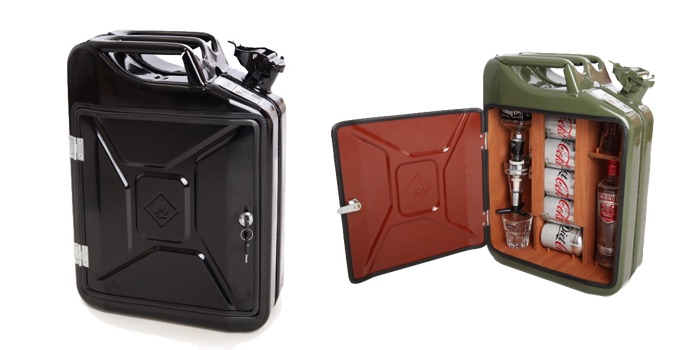 In our online store you can already buy our very cool Wavian Jerry Cans clocks (available in green and black) and also popular on our website are the Scandinavian made V8Tank fuel can guitar amps. These are great fun and are guaranteed to get the neighbours complaining about the noise.
Jerry Can Mini Bar
Today we've added two more amazing fuel can related products and this time the Jerry Cans have been converted into mini-bars. First the bad news. No alcohol is included with the can.
However, each one has been lovingly and hand crafted and there is plenty of space inside for
5 x drinks cans 330ml
1 x (Smirnoff vodka bottle or similar 50cl)
1 x optic holder (Jack Daniels or similar size 35cl)
2 x glass tumblers.
These fuel can mini-bars make a brilliant and fun gift for any Dad, Grandad (or Mum and Grandma) who loves tinkering around in the shed or greenhouse and enjoys a shot of whisky when the time is right.
These cans are made to order and have a delivery lead time of approx 1 to 2 weeks. Delivery is tracked and signed. The cans are securely lockable with two keys supplied.
Price £110 including VAT + Delivery and the cans are available in Green and Black
(weight 5.8 Kg) . Please drink responsibly, for more info visit www.drinkaware.co.uk