While many people will instinctively choose a steel fuel can to hold their petrol or diesel, we are seeing an increase in customers purchasing high quality plastic (HDPE) alternatives such as this 20 Litre plastic fuel container (Olive).

We have always been impressed with the quality finish on these plastic fuel cans manufactured by German company Hunersdorff. They also make the hugely popular 10 & 20 Litre AdBlue® Containers we sell, not to mention the 22 Litre ECO Container with Tap which has seem a big surge in demand since the Covid-19 situation.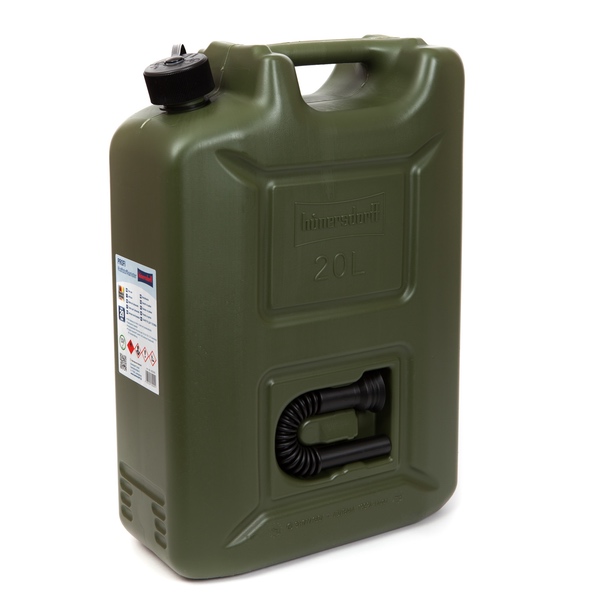 We are glad to report the HUN20-OLIPRO is now back in stock and available for immediate dispatch. The price for a single can is £21 inc VAT and if you are looking to purchase a large amount of these excellent plastic fuel cans then we would love to hear from you. Bulk pricing is our speciality and we can also quote for international orders for these (and any other items on our website).
The cans come in a smart olive green colour and have a spout housed in a special recess in the side of the can that is both neat and practical. Another good feature of these cans is the child proof safety cap. This works rather like the top on a medicine bottle and prevents small hands from opening the lid. Overall these 20 Litre Plastic fuel cans are exceptionally well made and excellent value for money. Don't just take our word for it, have a look at some of the reviews posted by verified purchasers. Incidentally the can also comes in a smaller 10 Litre version (click here to view).
Please see below the product specifications, if you have any questions about this fuel can or any other of our products feel free to call us on 01508 493 647 or email sales@wavian.net
20 Litre plastic fuel container (Olive)
Product Code: HUN20-OLIPRO
Product Specifications
Material: HDPE
Manufacturer hünersdorff
Weight: 2.7kg
Height 49.5cm
Length 35cm
Width 16.5cm
Inside/ Outside thread diameter: 29/38 mm