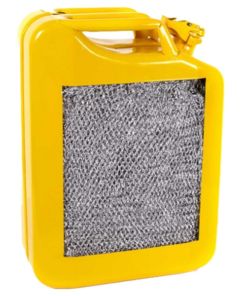 All Wavian Steel Fuel Cans are rigorously checked at every stage of the manufacturing process in order to ensure they leave the factory, not only in perfect condition but to also ensure they meet the highest safety standards.
Our 'regular' Wavian Fuel Can is used all over the world in all kinds of personal and industrial environments, from gardens to building sites to racing sport and everything in between. For certain situations where the potential for danger is at a higher level than normal some of our customers prefer to purchase our 'Explo-safe' fuel cans.
What is Explo-Safe?
From a visual perspective the Explo-safe fuel can looks and works just like a regular Wavian Fuel Can, the difference is that inside all Wavian Explo-safe fuel cans there is a special aluminium mesh material that while taking up just 2% of the cans volume serves to dissipate heat within the can, so if the fuel inside was exposed to an ignition source (eg a flame), the fuel would still burn off, but not explode.
Because of the added safety feature the cans are slightly more expensive than our usual Wavian Steel Fuel Cans, but for certain situations the added safety feature brings with it a certain peace of mind that justifies the extra expense.
The cans are available in red or yellow 20 Litre capacity and yellow in 10 Litres. We also stock a 5 litre and 10 Litre Rhino Explo-safe can too (see below). Please note because of the special integral material housed within the can the capacity will be very slightly lower than a 'regular' 20 litre jerrycan.
If you have any questions regarding our Wavian Explo-Safe fuel cans or any of our other products call us on 01508 493 647 or email sales@wavian.net