When it comes to Fuel Cans, we (Green Valley Supplies) Like to think we offer just that bit more than your average supplier. Fuel Cans are our speciality, what we don't know about them is not worth knowing and we pride ourselves on our range of fuel cans and accessories, not to mention fast delivery (next working day if you order before 12pm on most items) and fantastic customer service too.
One of the things that differentiates is our extensive range of high quality steel fuel cans available in different sizes and colours. our standard Wavian Fuel Cans are available in 5, 10 & 20 Litre sizes and our default colours are Red, Black, Khaki Green and Yellow. Wa also have a range of special Explosafe fuel cans (incidentally our 20 Litre Yellow Explosafe fuel can is currently 20% off when you purchase one or more). These fuel cans contain a special lining that, as the name suggests reduces the likelihood of the can exploding if exposed to a flame. For full info on these cans visit this page >
In addition to these standard colours, we often create a smaller run of special limited edition fuel cans. These cans are made to the exact same high specifications as our regular Wavian fuel cans, but in some cool colours.
Because of the extra cost of paint and changing the manufacturing process, normally these cans are a bit more expensive than the regular ones, however we currently have some awesome 5 Litre orange fuel cans that for a strictly limited time will be available for the exact same price as our regular 5 litre cans (prices subject to change and correct as of Thu 22nd Oct 2020).
See below for the full specifications on this excellent 5 litre Wavian Fuel Can and to purchase at the lower price now, visit the product page here >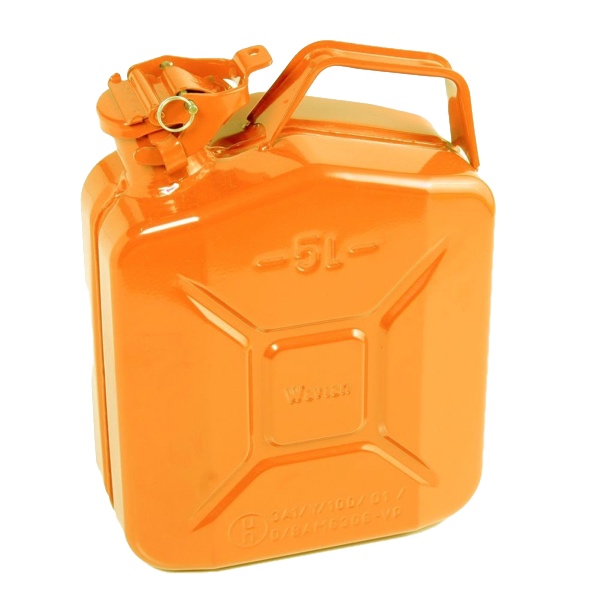 Jerry Can – Orange 5 Litre Steel
Our Wavian fuel cans are built to the highest quality, with a number of unique features which set them apart from cheaper alternatives including a more robust construction, a wider breather pipe and a corrosion resistant lining.
Features Include:
• Powder coated rust-resistant exterior paint
• Interior Rezol enamel lining prevents rust
• Leak-proof bayonet cap with locking pin
• Extra wide breather valve for a fast, smooth pour

Suitable for the storage of petrol and diesel.
Weight: 1.9kg
Thickness: 0.9mm
Dimensions: 310mm H x 115mm W x225mm
D Approved & Certified UN Dangerous Goods Approval
Australian Standard: AS 2906
Sweden Standard SP
German Standard TÜV/GS
For further information on these fuel cans, or any other items on our website email sales@wavian.net or call 01508 493 647.