Rhino 10 Litre Black Explosafe Fuel Can: Secure Your Fuel with Extra Safety and Stability
Fuel storage and transportation require reliable and secure containers to ensure safety. If you're searching for a top-quality fuel can with enhanced safety features and stability, look no further than the Rhino 10 Litre Black Explosafe Fuel Can. With its unique design and additional safety measures, this fuel can is perfect for those who prioritise safety and ease of transport.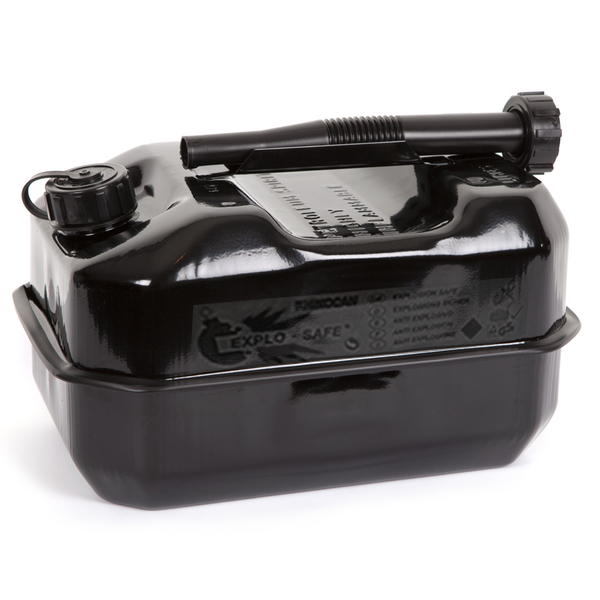 Enhanced Safety with Explo-Safe Filling
One standout feature of the Rhino Fuel Can is its Explo-Safe filling, which provides an extra layer of safety by minimising the risk of fuel ignition. This added safety feature gives you peace of mind, knowing that your fuel is stored in a container designed to prevent accidental ignition.
Uniquely Designed for Stability
The Rhino fuel can boasts a shape that sets it apart from traditional fuel containers. This design feature offers a distinct advantage: enhanced stability. Thanks to its unique shape, the Rhino can is less likely to tip over, ensuring your fuel remains secure even during transport. It's the ideal companion for your outdoor adventures, camping trips, or emergency fuel storage needs.
When you purchase a Rhino Fuel Can from us you'll receive a convenient plastic spout for easy pouring. For those who want additional accessories, we also offer spare spout kits designed specifically for this fuel can.
The Rhino Fuel Can comes with a host of features to meet your fuel storage needs:
10 Litre Steel Fuel Can: Offering ample capacity for storing petrol or diesel, this can ensures you have enough fuel for your requirements.
TUV Approved: The Rhino Fuel Can has passed the rigorous standards set by TUV, guaranteeing its quality and compliance with safety regulations.
Wide Base for Enhanced Stability: Its wide base significantly reduces the risk of tipping over, providing stability even in challenging conditions.
Stable in High Temperatures: With stability proven in temperatures exceeding 30°C, the Rhino Fuel Can maintains its reliability and performance in various environments.
Manufactured in the UK with High-Quality Steel: Crafted with top-grade steel, this fuel can offers durability and long-lasting performance.
Petrol Resistant Epoxy Finish: The fuel can is coated with a petrol-resistant epoxy finish, ensuring resistance against fuel and maintaining its sleek appearance.
Investing in a reliable fuel can is crucial for ensuring safe and secure fuel storage and transportation. The Rhino 10 Litre Black Explosafe Fuel Can combines enhanced safety features, unique stability design, and exceptional build quality to meet your fueling needs.
With its TUV approval, generous capacity, and expertly engineered construction, this fuel can is an excellent choice for petrol and diesel storage. Don't miss the opportunity to get your hands on this excellent fuel can, priced at £49.80 inc VAT (£41.50 ex VAT).
For more information on this high quality fuel can or to discuss bulk pricing email sales@wavian.net or call 01508 493 647
Note: Prices and availability mentioned are accurate as of 15th May 2023 and may be subject to change.