Good news for customers looking for a high quality 20 Litre water / fuel container two of our most popular products are back in stock.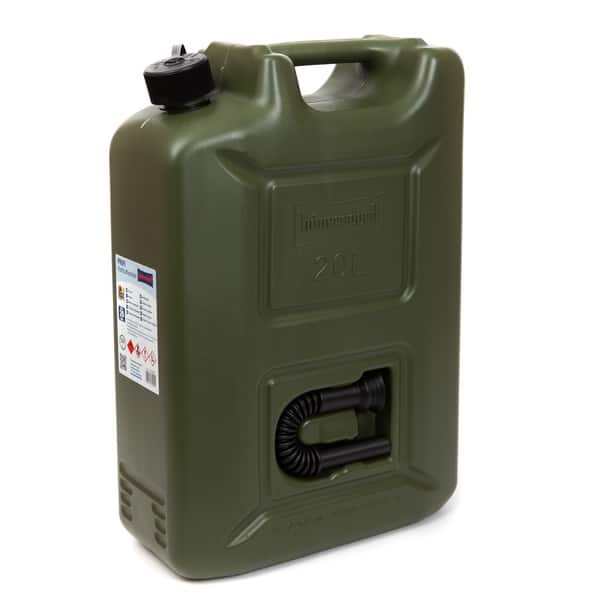 ---
20 Litre Plastic Fuel Can in Olive
HUN20-OLIPRO
Our 20 Litre plastic fuel can manufactured by hünersdorff is now back in stock and available to purchase either singular or in packs of 3,5 and 10.
See below for the fuel specs, and if you would like to watch a video that shows the AdBlue® variation of this can in action, click here >
The smart and strong Olive coloured HDPE plastic fuel can is suitable for the storage and transportation of diesel and other hazardous goods and fulfils the highest safety requirements. TÜV-tested and E10 suitable, the fuel can is stackable and comes shipped with a child proof safety screw top and a flexible spout that is cleverly housed into a recess in the fuel can.
Product Specifications
Material: HDPE
Manufacturer hünersdorff
Weight: 2.7kg
Height 49.5cm
Length 35cm
Width 16.5cm
Inside/ Outside thread diameter: 29/38 mm
Colour: Olive
EAN: 4007228802009
Product Code: HUN20-OLIPRO
You can purchase this container here >
---
Another item back in stock is the…
20 Litre Container with Tap
HUN20-ECOTAP
Also manufactured by hünersdorff in HD-PE, this high quality 20 Litre White HD-PE Plastic multi-purpose container is suitable for food use. Featuring an undetachable ECOscrew cap ET-231610 the container is also resistant to greases, resins, alkalis, oil and acids.
Fitted with a fixed mounted spigot (tap) made of LDPE with sleeve connection 3/4″
Product Specifications
Size: depth:190mm width:415 mm height:440 mm
Diameter of filling opening: inside/ outside 29mm/38mm
Colour: natural (white) (screw top and tap blue)
Weight: 1.03kg
EAN: 4007228817676
Manufacturer: hünersdorff
Available in packs of 3,5 or 10.
You can purchase this container here >
---
If you have any questions regarding either of these containers call us on 01508 493 647 or email sales@wavian.net