We want to wish all our past (and future) customers 2017 a very happy and prosperous new year for 2017. It's already shaping up to be a good one here at Green Valley Industrial Supplies.

In addition to our current best-selling high quality 5,10 &20 litre steel Jerry Cans, we're working on extending our range of Jerry Cans to add new colours, in addition to our new Camouflage and Orange Jerrycans.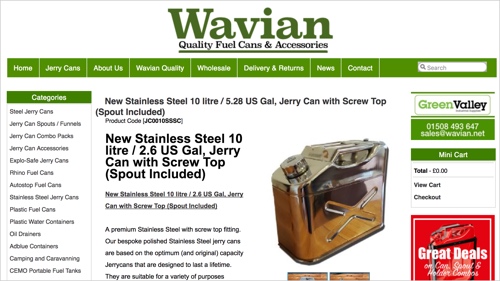 We've also just introduced a new 10 litre Stainless Steel (above), not to mention new portable fuel containers, new plastic containers and larger fuel and water containment tanks coming soon.
In other news our Adblue liquid business WavianBlue is going from strength to strength and we're now one of the leading suppliers of AdBlue® 1000 litre IBC's to small and medium sized businesses in the UK.

If you're new to AdBlue® and looking for some no obligation advice, we would be more than happy to help.
Call us on 01508 493647 or email sales@wavian.net