We have been a highly respected and trusted UK supplier of high quality fuel cans for many years now and our Wavian Jerry Cans are bought all over the world for their strength and reliability. Many of our customers use their cans in off road vehicles for refuelling and for in case of emergencies.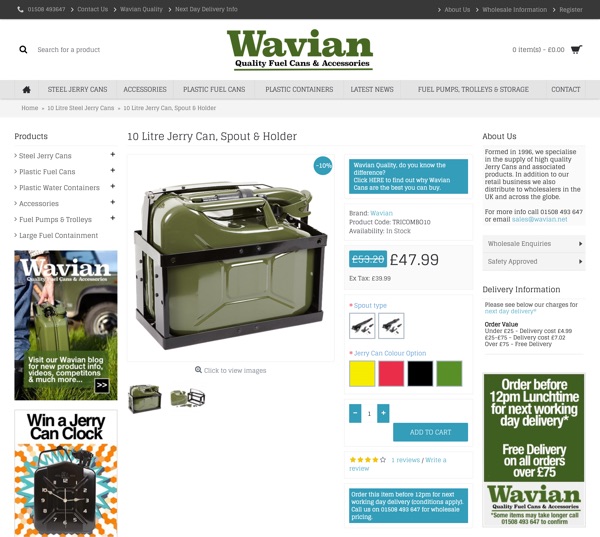 In these kind of situations a practical solution is to keep the Jerry Can secure in a custom built metal holder. This can be attached directly the outside of the vehicle (often at the back) or the fuel can holder can be fixed to another part of the vehicle. It is possible to use a padlock to secure the holder so the can is locked inside (not included).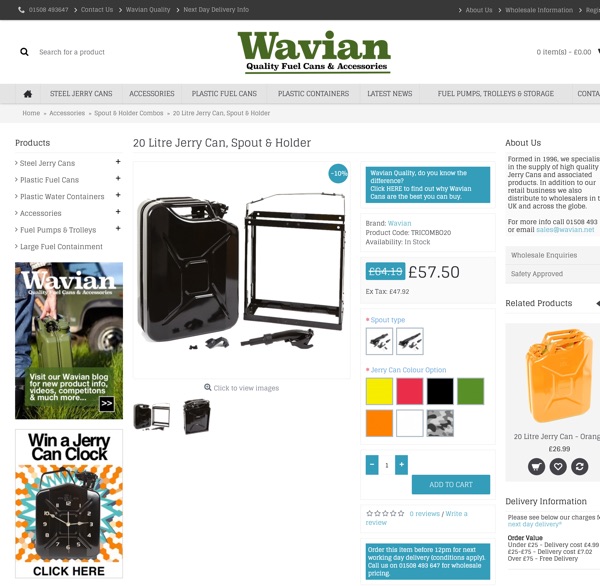 For customers wishing to buy a combo set of a Jerry Can, Jerry Can holder and spout we offer a number of choices in either 10 or 20 litre sizes.

You can also save money when you purchase these items together.
To purchase a 10 litre fuel can with 10 litre holder and spout visit
https://www.jerrycans.co.uk/10-Litre/10-litre-combo

To purchase a 20 litre fuel can with 20 litre holder and spout visit
https://www.jerrycans.co.uk/accessories/combo/20-Litre-Spout-Holder

Please note our wide neck blue jerry cans and a number of stainless steel fuel cans are not suitable for use in our jerry can holder. For information on opening and closing a Jerry Can visit our information page here.
We also have some very useful information regarding how much fuel you can store in fuel cans and common questions regarding refuel at petrol stations etc Click here to view this information.