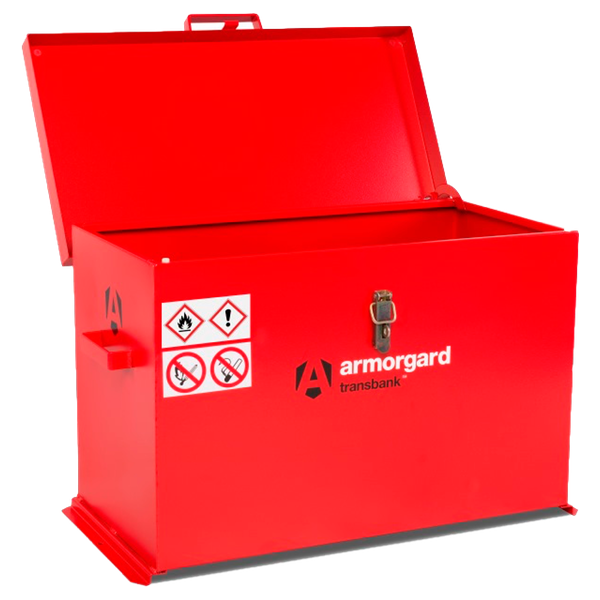 We like to keep moving forward at Wavian and after a short period where the products were unavailable we are proud to say that we are now offering a wide range or Armorgard strong boxes for sale over on our sister website. www.greenvalleysupplies.co.uk
Armorgard have long had a reputation for manufacturing extremely strong and hard wearing storing boxes, suitable for a wide range of uses – from Fuel Cans to tools to cleaning equipment and everything in-between.
The ranges we are currently stocking (as of Thu 17th Jun) are…

OxBox
The Oxbox™ is a medium duty range of tool vaults designed for use where budget is a consideration. Despite the competitive price tag, there has been no compromising on quality; Oxbox™ shares many of the premium features found on its higher priced companion ranges, including locks, hinges, gas struts and paint finish, while its unique 'folded' construction delivers outstanding strength. Manufactured from 1.5 and 2.0mm steel, the Oxbox™ is available in 6 popular sizes and offers dependable, cost-effective security for your tools and equipment.
Tuffbank
TuffBank sets the industry benchmark for quality and is now even better value for money. Hardened steel plates and anti-jemmy features make it virtually impossible to break into. Now benefiting from a host of new features and optional extras including our innovative SlamStop for enhanced safety, and PowerShelf to turn your product into a secure charging station. Available in 8 different sizes, there really is a TuffBank for every job.
Transbank
The cost-effective secure container for storing hazardous fuels and chemicals. HSE regulations require that fuels and chemicals are transported and stored in a secure, lockable container. The Armorgard TransBank™ is purpose-built to ensure that you comply with all legal requirements for storing and transporting hazardous goods, while protecting them from theft, fire and leakage. Constructed from heavy-duty steel plate, this high quality secure container is designed to accommodate standard jerry fuel cans, and is equally suitable for use as a chemical safe.
Strongbank
The ultra-strong range of tool safes from Armorgard. StrongBank™ – the world's toughest strongbox. Manufactured using 2, 3 and 5mm steel, with vulnerable areas specially strengthened, this state-of-the-art strongbox delivers virtually indestructible performance to deter even the most determined thief.
You can see the full range of items by following the link here >
For more info call 01508 493 647 or email sales@wavian.net.